In most cases, exterior home maintenance is rarely at the top of people's to-do list.
However, it is important that every homeowner performs a few basic tasks in this regard every now and then.
This will not only help you to maintain the integrity of your home but will also go a long way in keeping your wallet happy.
According to EpicHomeIdeas website, "spending some time and money on exterior home maintenance tasks can potentially save you from having to undertake costly repairs in the future."
With that said, the following are 5 essential exterior home maintenance tasks that every homeowner must perform:
Cleaning the gutters
Cleaning out the gutters can be pretty unpleasant for some people. However, it is still one of the most important exterior home maintenance tasks you should perform.
This is because gutters are designed to bring down water safely off your roof and then direct it away from your home's foundation. If you allow debris like rodent nests, twigs, leaves, and other items to accumulate in your gutters, then you risk having standing water that can overflow and go straight to your foundation, which can cause problems for you.
In addition, standing water can also attract mosquitoes and other kinds of undesirable creatures. Therefore, it is essential that you clean out your gutters every now and then.
Check on your doors and windows

No exterior home maintenance checklist can be complete without you taking a closer look at all of your doors and windows to ensure their insulation seals are intact and absent of any leaks, cracks or wear. This is because poor insulation can result in higher cooling costs in the summer and huge heating bills in the winter. Here is how much you can save on your energy bill with proper insulation.
Siding
While inspecting your doors and windows, it is also important that you check your siding and ensure that it is holding up well. You can start by checking for dents, peeling paint, scratches, or any missing panels. In most cases, a good and thorough cleaning is all that will be need to get your home back into shape when it comes to sidings.
Painting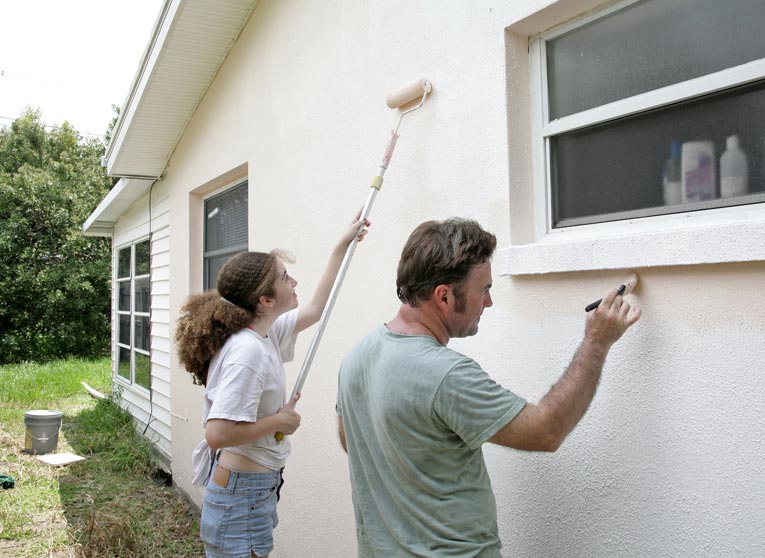 If you can't remember the last time you painted the outside of your home, then it is probably bested you do it as soon as you can.
Depending on the area you live in, opting to splash a fresh coat of paint on your home's exterior can do wonders for it. For instance, in addition to giving it a new feel, it will also help to prevent any cases of external deterioration.
For those whose homes do not need a complete coating, touching upon the shabby areas is advised.
Trimming your branches and shrubs
It is important that you trim any branches or shrubs that may have grown a bit too close to your home.
Even though certain homeowners may find this kind of vegetation pretty, one should not forget that the closer such greens are to your home, the easier it will be for chipmunks, squirrels, and other kinds of rodents to enter.
You should also remember to check for overgrown branches above your roof. The last thing you would want is for a heavy branch to fall on your home and mess things up.
With the 5 exterior home maintenance tasks mentioned above, you can start getting your home back into shape and looking good in all seasons.